Get Involved
More Ways To Help
You Can Make The Difference
All children and families deserve access to excellent mental healthcare services. Here's how you can help: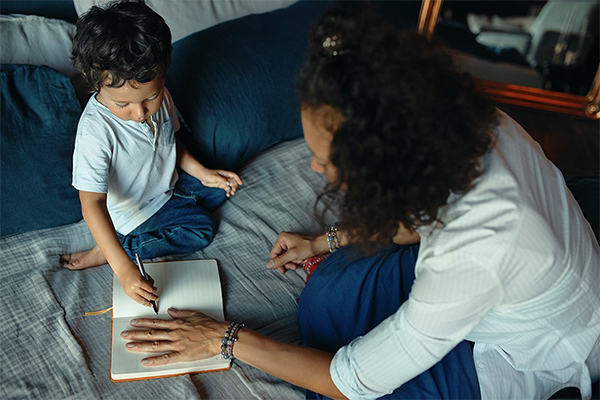 Dear Friends,
Six-year-old Steven lost his grandfather to COVID-19 this summer.
A few weeks later, he watched as his father was driven off by ambulance to the hospital, struggling to breathe. Steven began clinging to his mother, Beth, and he was afraid to leave the house. He refused to go to camp, had horrible nightmares and worried constantly about his dad.
Beth called North Shore Child & Family Guidance Center, desperate for help for her little boy.
One of our specially trained child therapists helped Steven process his trauma in telehealth sessions, where she read him the classic book The Kissing Hand. She guided Steven as he drew a hand on paper, for his mother to kiss, so he could take her love with him wherever he went.
He brought his drawing to camp, no longer traumatized about leaving home for the day.
These kinds of stories, which happen every day at the Guidance Center, are made possible for one reason: the generosity of donors like you.
During these challenging times, our youngest clients need your help more than ever before. Please donate today so kids like Steven get the help they need and deserve.
Thank you for all you do,
Paul Vitale
Board President
1. Provide Financial Support
Make a sustaining monthly donation to the Guidance Center. Any amount, no matter how large or small, will mean the world to children and families in need of care.
Sponsor a special event or specific program with a one-time or recurring donation.
Honor a loved one or acknowledge a family event through a gift to the Guidance Center.
Demonstrate your concern for the welfare of the children in your community by taking advantage of a naming opportunity at one of our three sites.
Shop at Amazon Smile.
Planned Giving: Create a lasting legacy with a gift of appreciated securities/stock, real estate, partnership interests, life insurance or retirement plan. You may also wish to remember the Guidance Center in your will or trust by making a bequest.
IRA Charitable Rollover
It's time for some good financial news! With a Qualified Charitable Distribution, also commonly known as an IRA Charitable Rollover gift, if you are 70½ years old or older, you can take advantage of a simple way to benefit North Shore Child & Family Guidance Center and receive tax benefits in return. You can give any amount up to $100,000 per year from your IRA directly to a qualified charity such as ours without increasing your taxable income. *
How it Works:
Notify your IRA custodian to make a direct transfer of the distribution amount from your IRA to North Shore Child & Family Guidance Center.
•
You take the portion of your required minimum distribution (RMD) that you need as income and transfer the remainder to us, thereby only paying income tax on the needed income.
•
Obtain a written acknowledgment from the qualified charity (different from a tax deduction receipt) to benefit from the tax-free treatment.
Your Benefits:
You can transfer up to $100,000 per year to charitable organizations such as the Guidance Center.
•
The distribution to charity counts toward your required minimum distribution for the year.
•
The amount transferred is excluded from your adjusted gross income.
•
Many taxpayers now take the standard deduction, eliminating the need for deductions associated with charitable gifts.
To Qualify:
You must be age 70 ½ or older at the time of the gift.*
•
Transfers must be made directly from a traditional IRA by your IRA administrator.
•
Gifts must be outright, and the donor cannot receive any goods or services in exchange for their contribution.
* Changes were made by the Setting Every Community Up for Retirement Enhancement (SECURE) Act, which was signed by the President on December 20, 2019. Due to changes made by the SECURE Act, if your 70th birthday is July 1, 2019 or later, you do not have to take withdrawals until you reach age 72.
** Please consult your tax advisor to confirm how you would benefit from this opportunity.
2. Donate Your Time or Talent
Volunteer at the Children's Center, our childcare center at Nassau County Family Court.
Join an event committee and help with our Gala, Golf & Tennis Classic or Spring Luncheon. Visit our Fundraiser page to learn more.
Take part in our Parenthood Advisory Council that presents workshops and forums of interest to families.
Join our Business Advisory Council and serve as our ambassador to corporate Long Island.
Share your marketing, social media, website or PR savvy by joining our Communications Advisory Board.
3. Share Your Connections
Does your business support local non-profits? Do you sit on the board of a foundation?  Are you a member of a local service organization? Introduce us, or let's have lunch to discuss how we might work together to build a stronger, healthier community.