Do you feel like your world has been turned upside down?
The COVID-19 pandemic is creating an escalation in anxiety, fear and depression for the entire population, both young and old. It's a traumatic experience for everyone, regardless of whether they were experiencing mental health challenges prior to the crisis.
The highly trained therapists at North Shore Child & Family Guidance Center are dedicated to serving their clients during this enormously difficult time. While our buildings are closed, we're conducting therapy sessions via phone and video conferencing.
Here's just one story of how this new process is working to support the children and families in our local communities.
One of our therapists was concerned because her client, 16-year-old Heather*, had left her grandmother on Long Island to be with her mother in a Midwestern state when the crisis first took hold. Heather normally lives with her grandmother, but since the elder woman was home recovering from COVID-19, the entire family felt it was best for Heather to stay with her mom.
The Guidance Center therapist contacted Heather on the phone and set up a video session.
Heather has pre-existing anxiety and depression issues, and the pandemic was making her symptoms even worse. She was understandably afraid about the health of her grandmother, whom she had lived with since she was a young girl. Although she was relieved to be spending time with her mother, she felt guilty about leaving her grandmother behind.
During the video session, Heather told her therapist that she had been having trouble getting out of bed in the morning because she felt so sad and exhausted. The therapist worked with Heather to develop a plan of action so that she could use her coping skills. They talked about setting up a healthy routine – getting up at a reasonable hour, showering, eating, taking walks and writing in her journal.
Heather was able to realize that, despite the many things that are not in her control, she did have the power to make wise choices to support her mental health. The therapist also scheduled a video session with Heather and her mother, so they both will learn how to communicate and support each other during this very stressful time.
All of the therapists at the Guidance Center have reached out to their clients, setting up appointments so they can continue their paths to healing. They have also taken on new clients who are struggling with COVID-related fears.
If your children or teens are experiencing anxiety, depression or other challenges, whether or not they are related to the pandemic, we are here to help. Call (516) 626-1971 or email info@northshorechildguidance.org.
*Not her real name.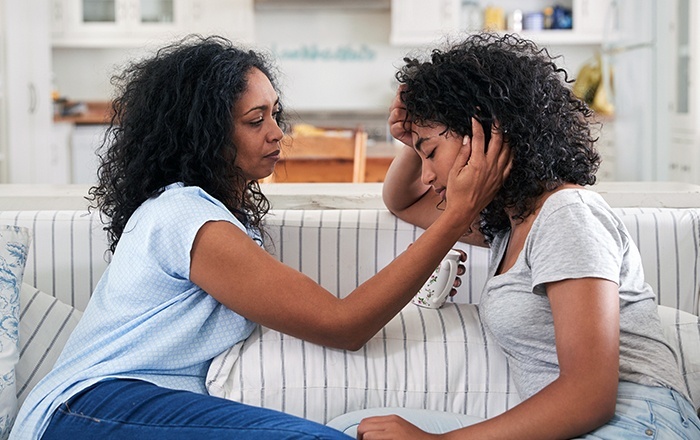 ---
Strategies on Reassuring Your Family
You are the best role model for your children, so when speaking about the epidemic, remain calm and reassuring.
Remind them that scientists, doctors and other experts are working every day to come up with treatments for the disease, and that we can trust they will find the best solutions.
Ask them what they have heard about the virus, so you can correct any misconceptions.
Establish a daily routine that includes time for schoolwork, exercise, screen time, play and creative pursuits.
Use this time together to establish some new family traditions, such as game night or movie night.
Expect your kids (and teens too) to need extra attention and love during this trying time.
Be sure to incorporate self-care practices. You cannot take care of others if you are not in good health, both mentally and physically.
---