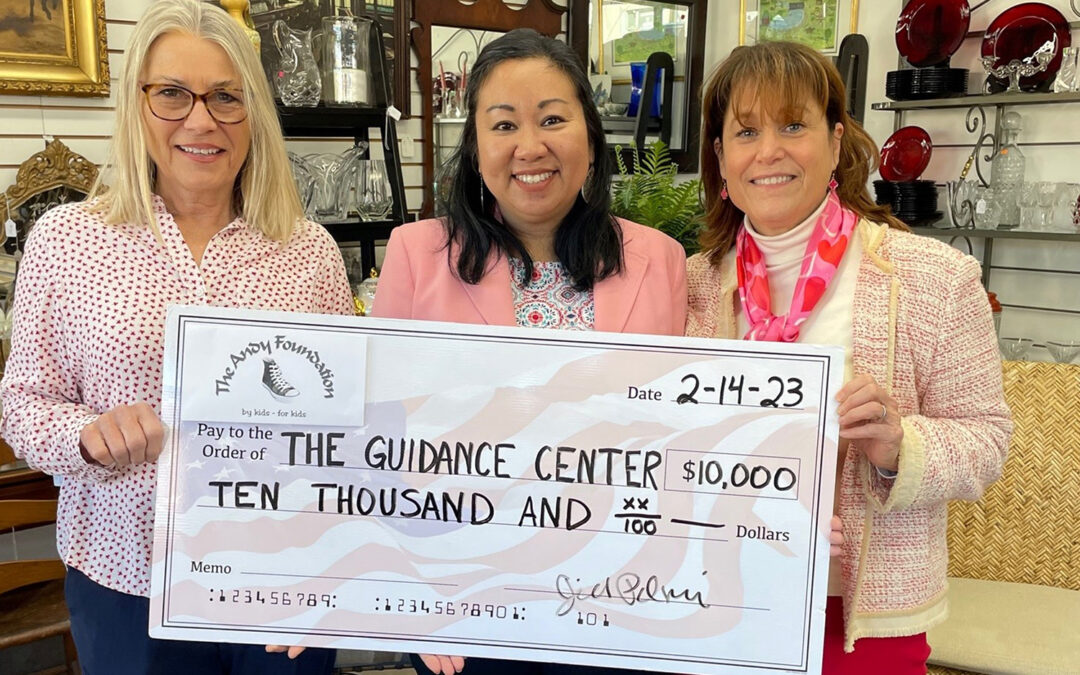 North Shore Child and Family Guidance Center, the leading not-for-profit children's mental health agency on Long Island, is pleased to announce that The Andy Foundation, a Garden City-based nonprofit, dedicated to helping children less fortunate than most, has donated $10,000 to support its mission.
"There is such a tremendous need now for supporting mental health services for young people, especially since the pandemic caused such isolation, fear and sadness," said Jill Palmeri, the founder of The Andy Foundation. "Our mission is helping children in need, and the lifesaving work of the Guidance Center is something we are proud to support."
Kathy Rivera, executive director/CEO of the Guidance Center, expressed gratitude for The Andy Foundation's generous donation.
"We never turn anyone away for inability to pay, so we count on the support of the local community, foundations and other funding sources to make sure we are here for everyone who needs us," Rivera said. "Kids and teens are experiencing rates of depression, anxiety and suicidal thinking at levels that are higher than ever before, and because of caring people like Jill and her team, these young people will get the help they desperately need and deserve."
The Andy Foundation, which was formed in 2004 to honor the memory of Andrew Palmeri, focuses on helping children less fortunate than most.  If you would like to support The foundation you can do so by donating or shopping at The Andy Foundation Yard Sale Shop, located at 195 Herricks Road, Garden City Park.  The store is filled with vintage and gently used items and it is staffed by a team of dedicated volunteers.  All proceeds from the store go to furthering the mission of The Andy Foundation.
The Guidance Center, which is celebrating its 70th anniversary this year and has offices in Roslyn Heights, Manhasset and Westbury, is dedicated to restoring and strengthening the emotional well-being of children (from birth to age 24) and their families. The organization's highly trained staff of psychiatrists, psychologists, social workers and other mental health professionals lead the way in diagnosis, treatment, prevention and advocacy. The Guidance Center helps children and families address issues such as depression and anxiety; suicidal thinking; developmental delays; bullying; teen pregnancy; sexual abuse; drug and alcohol use; trauma; and family crises stemming from illness, death and divorce.
For more information on the Andy Foundation, visit www.theandyfoundation.org or email info@theandyfoundation.org. To learn more about the Guidance Center, visit www.northshorechildguidance.org or call 516-626-1971.