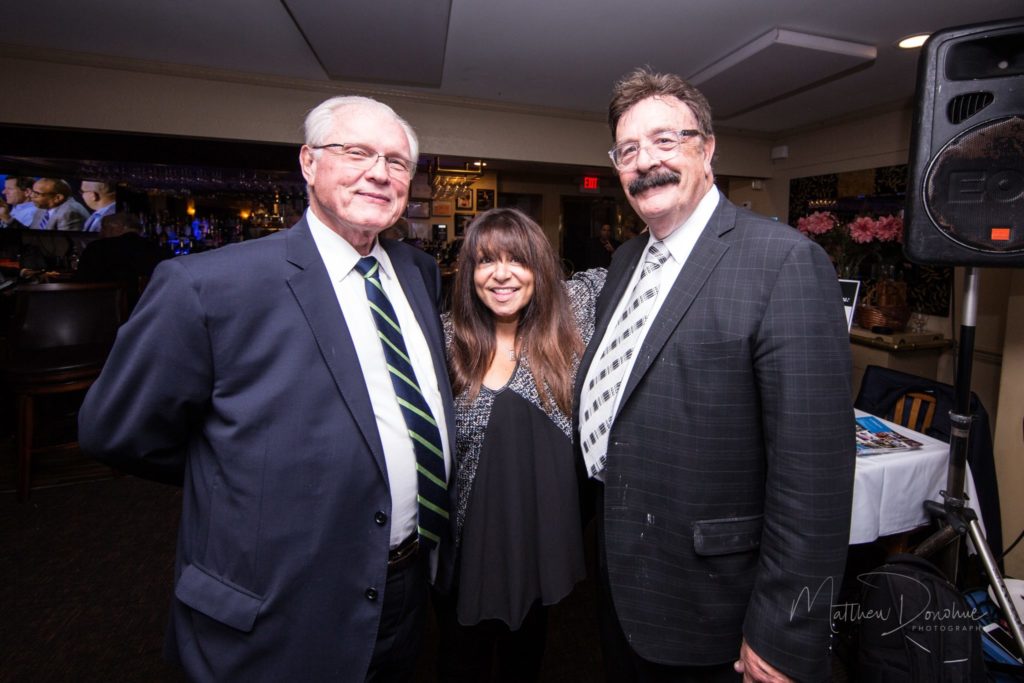 Roslyn Heights, NY, September 25, 2019 — On Thursday evening September 19th, North Shore Child & Family Guidance Center hosted a fundraiser for its Children's Center at Nassau County Family Court.  The event, which was held at Tesoro's Ristorante Cucini Italiana in Westbury, featured wonderful entertainment by the High Note band, along with cocktails and a buffet dinner.  
The event raised over $20,000 for the Children's Center, which provides care and early learning to more than 1,400 children annually, ages 6 weeks – 12 years, while their parents or guardians are conducting court business. 
Andrew Malekoff, Executive Director of the Guidance Center, thanked Joan Antonik and Corinthian Sistrunk, the Children's Center two full-time staff members, along with the valued volunteers who make the Children's Center a place of learning, fun and warmth. He also acknowledged Laurie Joseph-Yehuda and Rene Joseph, the daughter and widow of the late Honorable Burton S. Joseph, founder of the Children's Center.  Laurie is a member of the Children's Center Advisory Council and Rene painted the beautiful murals on the wall of the Children's Center many years ago.
Dr. Nellie Taylor-Walthrust, Director of The Leeds Place (under which the Children's Center operates), thanked co-chairs Allison Cacace, Robert C. Mangi, Esq. and John Zenir, Esq., PC, for their dedication to the fourth annual event. "This fundraiser is critical for the Children's Center, as funds for it have been drastically cut over the years," she said. "With the help of all of our supporters, we are able to keep the Center open full time."
"I am proud to have participated in this fourth annual fundraiser for the Children's Center," said co-chair Mangi. "One source of that pride is the number of family law attorneys who supported the children in this endeavor."
Co-chair Zenir expressed his gratitude to all of the Children's Center supporters "for helping to provide a safe place for the children while their parents are appearing in court regarding such emotionally tragic cases as domestic violence, neglect and abuse, custody, foster care and child support. For many of these kids their time at the Center helps to assure them that many people care about them and want to help them just be kids."
The fundraiser was sponsored by an array of local law firms, individuals and other businesses, including Anita & Robert Nigro, Esq.; Aiello, DiFalco & Gianakos, LLP; Barnes, Catterson, LoFrumento, Barnes, LLP; Casino One Limousines; Dimascio & Associates LLP; Ezdrin & Woods, PC; Family of Hon. Burton S. Joseph; Gassman Baiamonte Gruner, PC; Gold Coast Funding, Inc.; Mangi & Graham, LLP; Mark A. Green, PC; Patricia Manzo, Esq.; Mejias, Milgrim & Alvarado, PC; Pessala Family; Sahn Ward Coschignano, PLLC; Spano Abstract Service Corp.; and  John M. Zenir, Esq., PC.
About Us:
As the preeminent not-for-profit children's mental health agency on Long Island, North Shore Child & Family Guidance Center is dedicated to restoring and strengthening the emotional well-being of children (from birth – age 24) and their families. Our highly trained staff of psychiatrists, psychologists, social workers, vocational rehabilitation counselors and other mental health professionals lead the way in diagnosis, treatment, prevention, training, parent education, research and advocacy. The Guidance Center helps children and families address issues such as depression and anxiety; developmental delays; bullying; teen pregnancy; sexual abuse; teen drug and alcohol abuse; trauma; and family crises stemming from illness, death and divorce. For more than 65 years, the Guidance Center has been a place of hope and healing, providing innovative and compassionate treatment to all who enter our doors, regardless of their ability to pay. For more information about the Guidance Center, visit www.northshorechildguidance.org or call (516) 626-1971.