Roslyn Heights, NY, May 10, 2023—On Thursday, April 28, 2023, a sellout crowd of over 250 participants came together for North Shore Child & Family Guidance Center's Annual Spring Luncheon. This year's event, which supports the Guidance Center's mission to restore and strengthen the emotional well-being of children and their families, garnered a record-breaking $100,000 in donations.
The gathering at Glenn Head Country Club started with a morning session of Mahjong and Canasta accompanied by exclusive shopping experiences from several of Long Island's most fashionable and philanthropic small businesses including: Ameliora, Chintz Giraffe, Daniella Erin NYC, Dash Accessories, DeCorr & More, Designs that Donate, Eye Candy, Freida Rothman Jewelry, Kostume Klassics, Meryl Roesch Sunglasses, Simply Splendid Accessories, Tall Order, and Transitions.
After an elegant buffet lunch, event co-chair, Alexis Siegel, introduced the day's speaker, Lisa Friedman Clark. The crowd was moved and enlivened by Ms. Clark's inspirational story of overcoming considerable personal tragedy to become an advocate for mental health services and co-owner of the apparel company Tall Order.
"Lisa Friedman Clark's story is remarkably moving," said Alexis Siegel "Her continued strength, motivation, and resilience in the face of so much adversity is inspirational. Hearing about how the Guidance Center's dedicated team of professionals played such a critical role in her family's healing process makes me proud to be a part of this organization."
The luncheon wouldn't have been such a triumph without the hard work of the co-chairs, Jan Ashley, Amy Cantor and Alexis Siegel. "I am so grateful to everyone who participated in our Spring Luncheon event," said Kathy Rivera Executive Director of the Guidance Center.  "Together we are making our Long Island communities stronger by raising awareness and supporting our mission."
The Guidance Center is also grateful for the support of its sponsors. They are: Americana Manhasset,
Amy Cantor, Alexis Siegel, Joan Grant, Klipper Family Foundation, NYU Langone Hospital – Long Island,
United Healthcare, Ruth Fortunoff Cooper, Nancy Lane, South Oaks Hospital and Zucker Hillside Hospital – Northwell Health, Marilyn Albanese, Janice Ashley, Stephanie Ginsberg, Janni and Associates, Andrea Leeds, Fara Copell, Stacy Hoffman, Debbie Klein, Cynthia Rubinberg, Janice Schlesinger, Joanne Silverman and Rachel Zuckerbrot.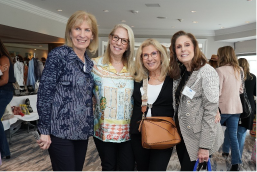 Pictured from left: Michele Frankel, Andrea Leeds, Faith Lerner, and Michele Freidus 
Feature Photo: pictured from left: Amy Cantor, Kathy Rivera, Alexis Siegel, Lisa Friedman Clark             
About Us:
As the preeminent not-for-profit children's mental health agency on Long Island, North Shore Child & Family Guidance Center is dedicated to restoring and strengthening the emotional well-being of children (from birth – age 24) and their families. Our highly trained staff of psychiatrists, psychologists, social workers, vocational rehabilitation counselors and other mental health professionals lead the way in diagnosis, treatment, prevention, training, parent education, research and advocacy. The Guidance Center helps children and families address issues such as depression and anxiety; developmental delays; bullying; teen pregnancy; sexual abuse; teen drug and alcohol abuse; and family crises stemming from illness, death, trauma and divorce. For more than 65 years, the Guidance Center has been a place of hope and healing, providing innovative and compassionate treatment to all who enter our doors, regardless of their ability to pay. For more information about the Guidance Center, visit www.northshorechildguidance.org or call (516) 626-1971.