Volunteers plant and paint at Leeds Place in Westbury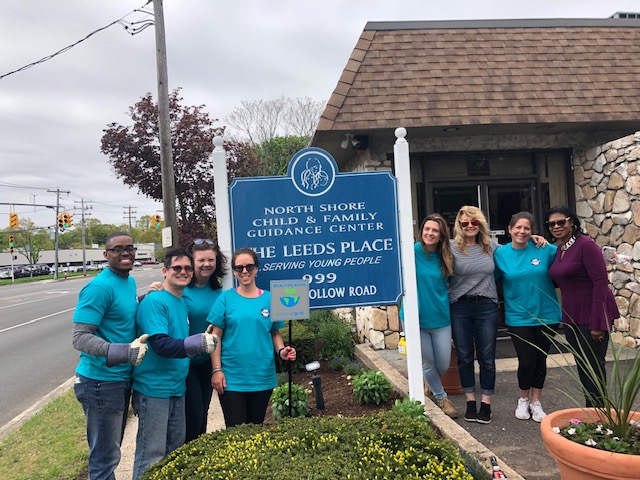 Volunteers from National Grid included (left to right) Malcolm Minott, Fran Di Leonardo, Kathleen Wisnewski, Alanna Russo, Susan Eckert, Lauren Benetos and Carie Manticos, pictured with Dr. Nellie Taylor-Walthrust of the Guidance Center.
Roslyn Heights, NY, May 13, 2019 — On May 7, 2019, North Shore Child & Family Guidance Center welcomed seven employees of National Grid to its Leeds Place location on Brush Hollow Road in Westbury, one of the Guidance Center's three sites.
The seven volunteers—who brought with new large decorative planters, several beds of petunias, geraniums, catmint, hostas and juniper bushes, along some white paint—spent the day planting, painting and cleaning the Leeds Place signpost, giving the building a fresh, friendly look.  
"National Grid is happy to partner with North Shore Child & Family Guidance at their Leeds Place," said Kathleen Wisnewski, National Grid Customer and Community Manager, who was part of the volunteer team. "The planting and beautification project performed by employees from our Customer and Community and IS Teams is another example of how National Grid gives back to the community we live and work in. It's nice to know that the people entering the Leeds Place will be greeted by beautiful flowers to help brighten their day."
Fran DiLeonardo, Director, IT Customer Service Management at National Grid, was enthusiastic as he put his all into the project. "It was another great day making a difference in the community that we live and work in!" said DiLeonardo. "It's always rewarding to put the time aside and make it happen; that's why we keep coming back!"
"I love meeting new people and learning about the good work they are doing to support folks in their communities who need a little extra help," said volunteer Susan M Eckert, IT Infrastructure and Operations at National Grid. "It was very inspiring!"
This is the third time this year that National Grid has volunteered for the Guidance Center. "We are very proud of our partnership with National Grid," said Lauren McGowan, Director of Development, North Shore Child & Family Guidance Center. "Everyone is so generous with their time and talents. The volunteers all worked tirelessly to help make the Guidance Center's Leeds Place office an attractive place for our clients to continue on their path to healing."
If your company would like to discuss opportunities to volunteer at the Guidance Center or support our mission in other ways, contact McGowan at LMcGowan@northshorechildguidance.org or call her at (516) 626-1971, ext. 320.
About North Shore Child & Family Guidance Center:
As the preeminent not-for-profit children's mental health agency on Long Island, North Shore Child & Family Guidance Center is dedicated to restoring and strengthening the emotional well-being of children (from birth – age 24) and their families. Our highly trained staff of psychiatrists, psychologists, social workers, vocational rehabilitation counselors and other mental health professionals lead the way in diagnosis, treatment, prevention, training, parent education, research and advocacy. The Guidance Center helps children and families address issues such as depression and anxiety; developmental delays; bullying; teen pregnancy; sexual abuse; teen drug and alcohol abuse; and family crises stemming from illness, death, trauma and divorce. For more than 65 years, the Guidance Center has been a place of hope and healing, providing innovative and compassionate treatment to all who enter our doors, regardless of their ability to pay. For more information about the Guidance Center, visit www.northshorechildguidance.org or call (516) 626-1971.
About National Grid:
National Grid (LSE: NG; NYSE: NGG) is an electricity, natural gas and clean energy delivery company serving more than 20 million people through our networks in New York, Massachusetts and Rhode Island. We are the largest distributor of natural gas in the Northeast. National Grid also operates the systems that deliver gas and electricity across Great Britain.  National Grid is transforming our electricity and natural gas networks with smarter, cleaner and more resilient energy solutions to meet the goal of reducing greenhouse gas emissions by 80 percent by 2050. Our Northeast 80×50 Pathway is an industry leading analysis for how to reach that goal in the states we serve, focusing on the power generation, heat and transportation sectors.  
Read more about the innovative projects across our footprint in The Democratization of Energy, an eBook written by National Grid's U.S. president, Dean Seavers. For more information, please visit our website, follow us on Twitter, watch us on YouTube, friend us on Facebook and find our photos on Instagram.