Roslyn Heights, NY, September 26, 2018 — On Tuesday evening September 24th, North Shore Child & Family Guidance Center hosted a fundraiser for its Children's Center at Nassau County Family Court. The event, which was held at Tesoro's Ristorante Cucini Italiana in Westbury, featured wonderful entertainment by musician and soul crooner Paul Loren, along with cocktails and a buffet dinner.
The event raised over $17,000 for the Children's Center, which provides care and early learning to almost 2,000 children annually, ages 6 weeks – 12 years, while their parents or guardians are conducting court business.
At the event, Nassau County Legislator Joshua Lafazan presented a citation to the Guidance Center honoring the Children's Center program. "North Shore Child & Family Guidance Center knows that the best investment one can make is in a child," said Lafazan. "I am proud to support their efforts as they make a difference in the lives of youths and families all across Long Island."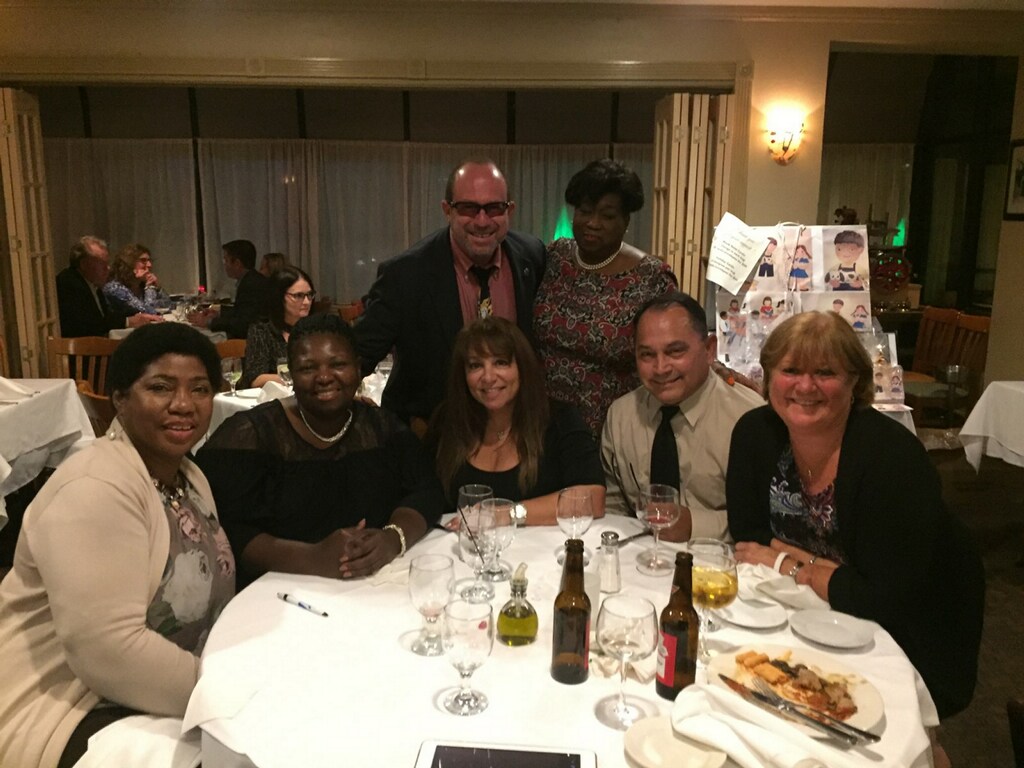 Seated: Carolyn Germany, Corinthian Sistrunk, Allison Cacace, Robert and Joan Antonik. Standing: Mace Greenfield, Judge Andrea Phoenix.
Dr. Nellie Taylor-Walthrust, Director of The Leeds Place (under which the Children's Center operates), explained that the Children's Center is not a babysitting service but rather an early learning center.  "Often this is a child's first exposure to an early learning environment," she said. "Every aspect of the Center promotes learning by which the children can explore new things in a safe, structured and professionally supervised setting."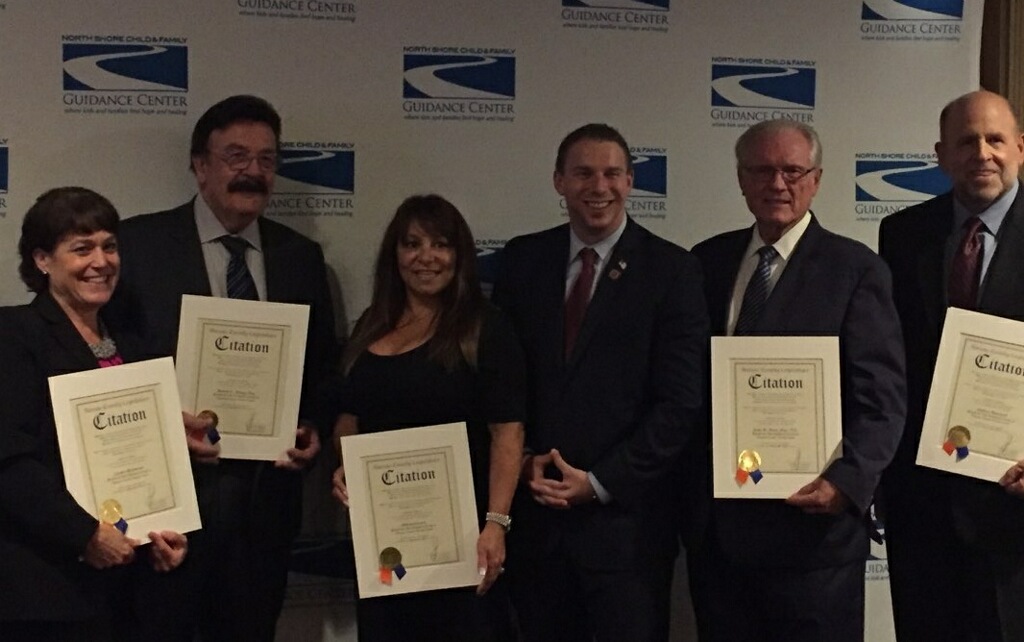 Lauren McGowan, Bob Mangi, Allison Cacace, Legislator Joshua Lafazan, John Zenir and Andrew Malekoff
Andrew Malekoff, Executive Director of the Guidance Center, thanked the two full-time staff members and the valued volunteers, without whom the Children's Center's high level of service wouldn't be possible. He also acknowledged Laurie Joseph-Yehuda and Rene Joseph, the daughter and widow of the late Honorable Burton S. Joseph, founder of the Children's Center, who were in attendance.  Laurie is a member of the Children's Center Advisory Council and Rene painted the beautiful murals on the wall of the Children's Center many years ago.
Dr. Walthrust thanked co-chairs Allison Cacace, Bob Mangi, Esq. and John Zenir, Esq., P.C. for their dedication to the third annual event. "This fundraiser is critical for the Children's Center, as funds for it have been drastically cut over the years, though we have been able to keep it open full time," she said.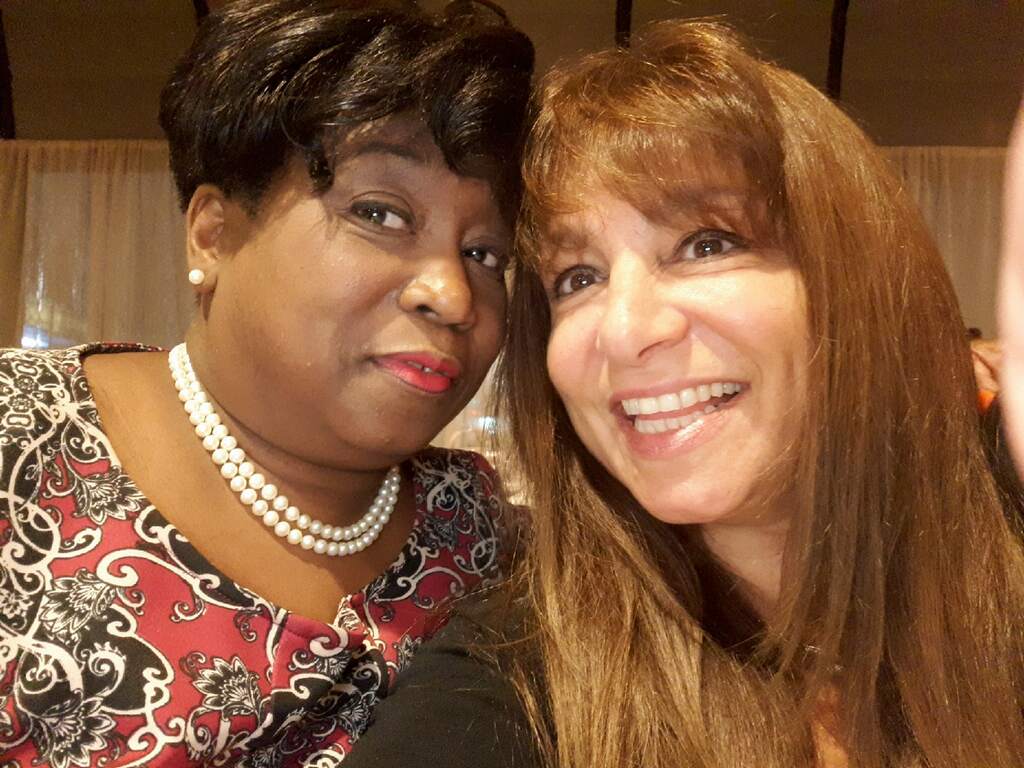 Allison Cacace and Judge Andrea Phoenix
The fundraiser was sponsored by an array of local law firms and other businesses, including Aiello, DiFalco & Gianakos, LLP; Barnes Catterson LoFrumento Barnen, LLP; Casino One Limousines; DiMascio & Associates, LLP; Gassman Baiamonte Betts, PC; Mangi & Graham, LLP; Mejias, Milgrim
& Alvarado, PC; Schlissel Ostrow Karabatos, PLLC; The Law Firm of Edwards & Rockmore, PC; The Law Practice of John M. Zenir; The Pessala Family; The Virdone Law Firm, PC; Vishnick McGovern Milizio, LLP; and the family of Hon. Burton S. Joseph, Founder of the Children's Center at Nassau County Family Court.